2 minutes ago





Comments:



Latest front pages from Iran....this is pure entertainment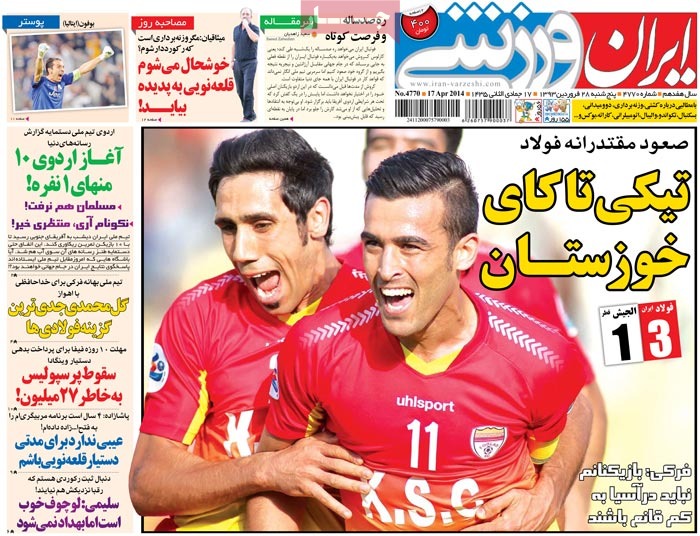 ---
9 minutes ago
Comments:
Farzad Khan: My info is based on reports published by media. For instance, AlJesh ( Foolad opponnet) had 7 non Qatari players on their roster, some via naturalization. The highest paid player is from France, with a contract 7-9 $M. They also had a Korean player. They are top of league in Qatar. But there are many high priced players in UAE/Qatar/SA teams. One example is the forward scoring 3 goals to Traktor. I think he is from Ghana, who will face Portugal in WC. I could not beleive how Foolad was toying with this team. They scored 3, but could have scored 3-4 more.
Zamin, Zaman, all or most coaches, modirs and analysts admitted that Foolad is the best team in Iran this year. Even Panjali ( Pers manager) admitted Foolad deserved this title. Even the aljesh coach said Foolad can be the power house in Asia. I have never heard such commenst towrd any other team or clubs ( including TM). The only person still not sold is Kallash. It seems somehow, it does not fit within his business plan!!!
---
20 minutes ago





Comments:



I forgot all about MAL flight......now we got the KOR ship sinking in broad daylight with almost 400 folks on board and 300 are still missing....we are sure getting some strange accidents these days!!!!


---
23 minutes ago
Comments:
Farzad, google him under Kevind Edson...he's your run of the mill American kookoo
---
an hour ago





Comments:



Saeed jan... i do not get into Football arguments with you as they way you see this game is ultra modern and is way ahead of my time... but can you name a few of these players and what country they play for? thank bud!

"They are attracting $10 M players, and yes they are Euro caliber. You will see most of them in WC, playing for their countries."
---
an hour ago





Comments:


Sorry guys... I am still searching for Flight 370... who is Kayvon Edson?
---
an hour ago





Comments:


Saeed, ONE club is doing well, for many reasons...not necaasirirly because it has better individual players. TM is based on players that fit the schema of the TM coach, and does perform very different than Eses.
---
2 hours ago





Comments:


Ghassebi: I agree, but the two clubs doing well are those relying on their youth, and the other two are those relying on CQ approach. In fact one of them was the team TM was built around.
Ali.P: Qatar and UAE clubs are going in the right direction. They are attracting $10 M players, and yes they are Euro caliber. You will see most of them in WC, playing for their countries. They are hiring good coaches, have good stadium, and fans are increasing. They are buying big Euro clubs too. The brand of football Foolad/Sepahan display regardless of results are attractive and modern. That is how you make progress. Gone are days of long balls and oot dasti.
Foolad is also making progress off the field. They are bringing fans to stadium, by playing attractive brand of football. That is how you succeed.
---
2 hours ago





Comments:


This guy reminds me of the psycho in "Silence of the Lambs"!
---
2 hours ago





Comments:


Yeah I saw that ... I wonder how these people feel when they have to deal with Iranians!
---
2 hours ago
Comments:
WOW!!! This Kayvon Edson is totally kookoo



http://videos.rawstory.com/video/Kayvon-Edson-Natural-Selection


---
2 hours ago





Comments:



I also recommend anyone going to BRA make sure you support the home team at all times....these folks, the Brazilians, get very edgy when it comes to futbol...do not under any circumstances show any support for URU, ARG, GER, NED....and above all pray the BRA does well because if god forbid they get eliminated before the final or lose the final there will be turmoil over there...but if they win you will get some love for sure
---
3 hours ago





Comments:



I think ARG has no chance when the WC is in BRA....if ARG win it in BRA I would fully expect a shooting war between the 2 countries
---
3 hours ago





Comments:


I think from Sepahan players, Jaccob Karimi and Haj safi had good chances... the rest no!


Rahman Ahmadi , I never believed he was a great keeper... yes, he did marvelous against Korea and the whole nation thank him for it..


---
3 hours ago





Comments:



Ali.P... here is the Mother of all Aftabeh Lagan:

.

قبل از این پیش بینی شده بود که با بلیت هر بازیکن مقداری از لوازم تیم ملی تحویل هواپیمایی شود اما از آنجا که 16 نفر غیبت داشتند، ولی به خاطر غیبت 16 بازیکن، مسئولان تیم ملی مجبور شدند 80 میلیون تومان به عنوان اضافه بار به آنها پرداخت کنند
---
3 hours ago





Comments:


All the 6 sephan players were crossed of, and they wont survive the group stage anyways...
---
3 hours ago





Comments:



Ali.P... zabooneto gAz begir...
---
3 hours ago





Comments:


Messi could possibly be saving himself for WC ... this is Argentina's best chance ... WC in South America!
Even if Messi is still around in 2018, there is no way they have a chance in Russia ... and I'm pretty sure Messi will not be around in 2022 Qatar ... so this is the only time Argentina can take advantage of the best player they have had since Maradona.
---
3 hours ago





Comments:


We all know that there is a bias toward non Iranian coaches. Some are valid and some are just ...

Looking at our football history of the past 50 years, one can compare vatani coaches to others. Results are clear. Doesn't matter if one agrees or not, results are results.

We have facts and we have feelings! Let's focus on facts and avoid what ifs...
---
3 hours ago
Comments:
"Barcelona without Messi is Spain…. Messi without Barcelona is nothing!"
---
3 hours ago





Comments:


Foolad against Naft, Sepahan, Perspolis, and ESES only gained 3 points out of possible 24... was swept by both Naft and ESES...
---
4 hours ago
Comments:
Iranian players are not alone in their conditioning....I am happy to see Messi in the deep slump also which reflects perfectly on BAR recent failures
Messi blamed for Barcelona's defeat after running just a mile more than the KEEPER
Lionel Messi ran 4.2 miles during the 1-0 Champions League loss to Atletico
Lionel Messi's failure to have any impact against Atletico Madrid on Wednesday night and coach Gerardo Martino's inability to do anything about it dominated the inquest into Barcelona's dismal Champions League exit.
'He ran only one mile more than goalkeeper Pinto' ran one headline as post-match statistics revealed the Argentine had covered 4.2 miles during the game - half that of Atletico matchwinner Koke.
'We weren't really interested in Leo having a lot of participation in the game' were the words that will come back to haunt Martino after the 1-0 defeat. He had been asked why Messi saw so little of the ball in Atletico's win.
Read more: http://www.dailymail.co.uk/sport/football/article-2601305/Messi-blamed-Barcelonas-defeat-running-just-1km-KEEPER.html#ixzz2zADaf93b
---
4 hours ago





Comments:


Agha Saeed, despite how you feel about CQ, it is a fact that our players are not on par physically with the best in the world. It is a scientific fact, and they have the parameters to actually measure this fitness level. CQ has been VERY specific in mentioning that our players are behind the standards of

European league/players

, because that's where the best football in the world is played (England, Spain, Germany, etc)!
As far as these Arab teams with

expensive

players, these are players that would be playing in Europe if they were that good! They may be a level higher than Asian players, but they certainly don't measure up with the best and fittest. So I personally, as much as love to see Foolad beat the crap out of these teams, don't let the results mislead you! :-)
---
4 hours ago





Comments:


Saeed, the overall results of iranian clubs are very poor, we have two teams of 4 eliminated one week ahead of the groups stage conclusion, a third team has an outsider chance. Right now we are seeing 1 out of 4 teams adavncing from the group stage! That is not a particulary good result to build an argument upon.
---
5 hours ago





Comments:


Zinsky: I did not suggest to make big changes. I beleive we should let Kallash continue drinking his own water. I see much more exciting brand of football from Foolad and Sepahan on displa, and look forward to see them continue the progress with their young promising players.
---
5 hours ago





Comments:


Farzad,

Same difference! Khahee nashavee rosva, hamrangee jama-at shoo!
---
5 hours ago





Comments:



Zinsk, CQ has not changed to iranian culture. He simply learned how to deal with idiots and non sense...
---
5 hours ago





Comments:


Let's use her for our TM PR Officer:


---
5 hours ago





Comments:


به گزارش خبرنگار مهر، در این تمرین که در مجموعه ورزشی فونتین برگزار شد، ابتدا کارلوس کی روش دقایقی برای بازیکنان صحبت کرد و بازیکنان تیم ملی که لباس های سبز رنگ برتن داشتند تمرینات کششی و بدنسازی را پشت سرگذاشتند و سپس کار با توپ را آغاز کردند. این تمرین دو ساعت و 20 دقیقه طول کشید.

کی روش سرمربی تیم ملی فوتبال البته در تمرینات امروز اعلام کرد دیگر بازیکنان دعوت شده به اردوی تیم ملی دو سه روز آینده به آفریقای جنوبی می آیند تا با تمرینات موثر و آمادگی کامل و قابل قبول، این اردو را به پایان برسانند.

از سوی دیگر با اضافه شدن بازیکنان تیم های استقلال، فولاد، تراکتورسازی و سپاهان به اردوی تیم ملی، قرار است ملی پوشان کشورمان روز سه شنبه آینده نخستین دیدار تدارکاتی خود را برابر یکی از تیم های باشگاهی آفریقای جنوبی برگزار کند.
---
5 hours ago





Comments:


Do we all agree that at this stage, badan sazee and chemistry of the team is much more critical than individual technical improvement? We can and possibly should rearrange few players but hoping that Mr. X replacing Mr. Y would impact the result is silly!